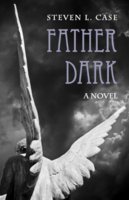 Having spent many years waiting for a Peretti sequel called 'Oh my God, now it is really, really dark in here!', the title of this short, easy access novel was a must read. The sort you slip on your phone and flick through the entertaining pages whilst waiting for the kettle to boil, and half an hour later re-boil because a cup of tea can wait just until the next page.
"The edge did not absorb light – it just sort of made it absent", is the description of where our menacing hero feels most at home, too much light and he feels like shadow, too much shadow and the only thing keeping him from falling over the edge is the light. This story is in that twilight, the place 'in-between'…  It is refreshingly littered with blunt street language for a moral tale, where dark is light dressed in a sinister cloak… and the 'goodie' ghoul devours the dark art of the heart for breakfast.   The mix of the ethereal and earthly dimensions is comical and some leading 'one-liners' have you snorting an involuntary guffaw especially if one is from the 'churchified'.
"I shit you not"… was a new turn of phrase for me which has indeed become the February favourite but there are also depths that are hinted at within this story if you are looking. The action-packed narrative is dotted with diary type inserts or the main character having a one-way conversation with you creating a varied perspective.  It was an enjoyable read and for me as a 'believer' wary and weary of exhausted paradigms of christian genre, that in itself was a relief. Admittedly I tire of the assumption of a male God with continual references to 'He', not that 'She' is the antidote but I do look for effort at other expressions that are 'in-between'.
All in all it was fun and interesting to encounter 'dirtside' through the actual eyes of a gargoyle from paradise… what a Case!
Disclosure of Material Connection: I received this book free from the author and/or publisher through the Speakeasy blogging book review network. I was not required to write a positive review. The opinions I have expressed are my own. I am disclosing this in accordance with the Federal Trade Commission's 16 CFR,Part 255.