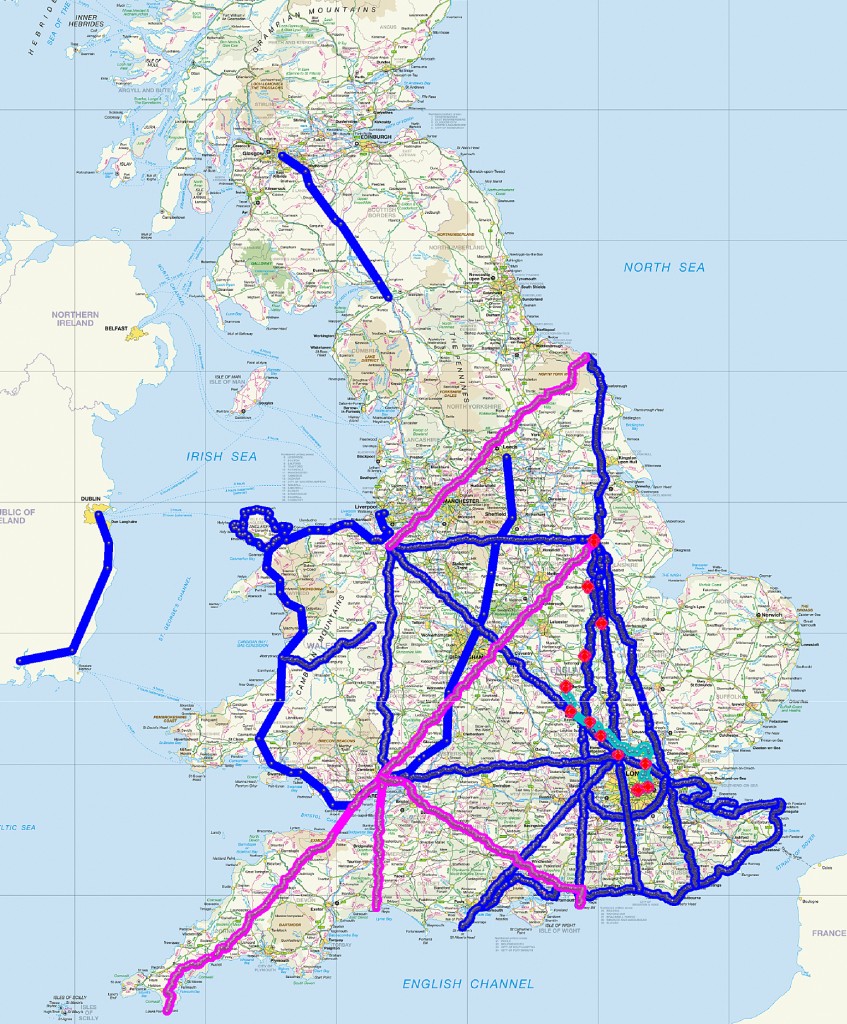 (Click on maps to enlarge)
The walks this year are shown in pink on the left map, those in blue are all that has been walked since Summer 2007 and the red dots are the Eleanor Crosses. 
May 2007, I headed off to walk in Turkey and experienced such a life changing interaction with my identity and family legacy that I have never looked back. Almost six years later and I am still walking.
Vision and Sight have faithfully met with me along the way. I am not sure of many, many things but this is as sure footed as it gets for me. While much dismantles all around, this one assignment that has taken me all over England, I am sure about.
I now have five walks for 2012.
Kicking off out of Whitby this March, I will eventually finish at my home in Selsey in the Autumn. This beginning and end draw together the initial motivation that sparked this assignment; the role of Wilfred in 664 at the synod of Whitby and his bishopric in Selsey on the south coast. It may even be that with my arrival home, this assignment completes in terms of England. This thread, in the vast tapestry that God is drawing out in our land through ALL life lived in Christ, will be in place from beginning to end.
Beginning in March, having marked out Lincoln to Whitby last year, I am firstly walking from Whitby to Chester. This is so that all that is draining out and indeed being regained at Whitby flows south between both Chester and Lincoln, continuing south between Caerleon and St Albans and through the entire south, Margate to Landsend and all in between.
A Land reclaiming project 
We pulled the plug at Whitby serving notice to all importation of control and pulled the plug in Selsey where 3 indigenous gold coins had surfaced on roman land. You will see from the map that a lot of the furrows that have been walked connect from Whitby and eventually hit the south coast with a heavy concentration on the SE where control has operated most strongly.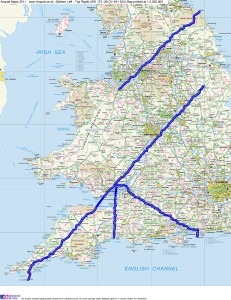 In May, I will complete the cross-over in the Midlands, Lincoln to Caerleon and then three walks will come out of Caerleon, two heading into the SW and then lastly home to Selsey crossing Stone Henge on the way.
Map on the right is the 'X' walks only.
1) Whitby to Chester : 7th – 11th March
2) Lincoln to Caerleon : 2nd – 6th May
3) Caerleon to Lizard Point : 27th June – 1st July
4) Caerleon to Humble Point : 2nd – 5th August
5) Caerleon to Selsey : 20th – 23rd Sept