Third walk of 2012  into the South West of England 
 Wednesday 27th June to Sunday 1st July.  
INTRO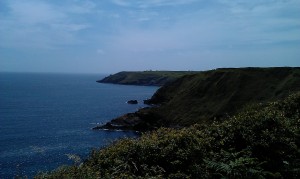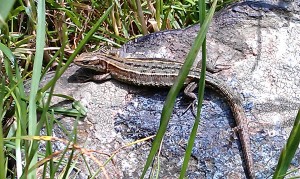 The South West is integral to bringing England through into all that has been walked for and likewise, the South West needs to be part of this major shift in England's positioning.
Whilst stepping with the gospel of peace and calling for the identity of the land to be restored this will also create an opportunity for 'control' to have yet another route to drain into the sea, emptying from Whitby's entry point and the 'roman chesters' as part of this land reclamation programme. I also believe there will be a flow of going to apologise, to ask for forgiveness from this part of the land where subduing and maligning crushed its spirit and its gentle nature. I see a 'going to receive rather than to give' and a humility to bend the knee and say sorry for the systematic bullying. Now the 'bully' needs the help of that land to allow the muddy waters of control a way out and that land has every right to curl up in defiance and remember its pain. It will be a sensitive walk.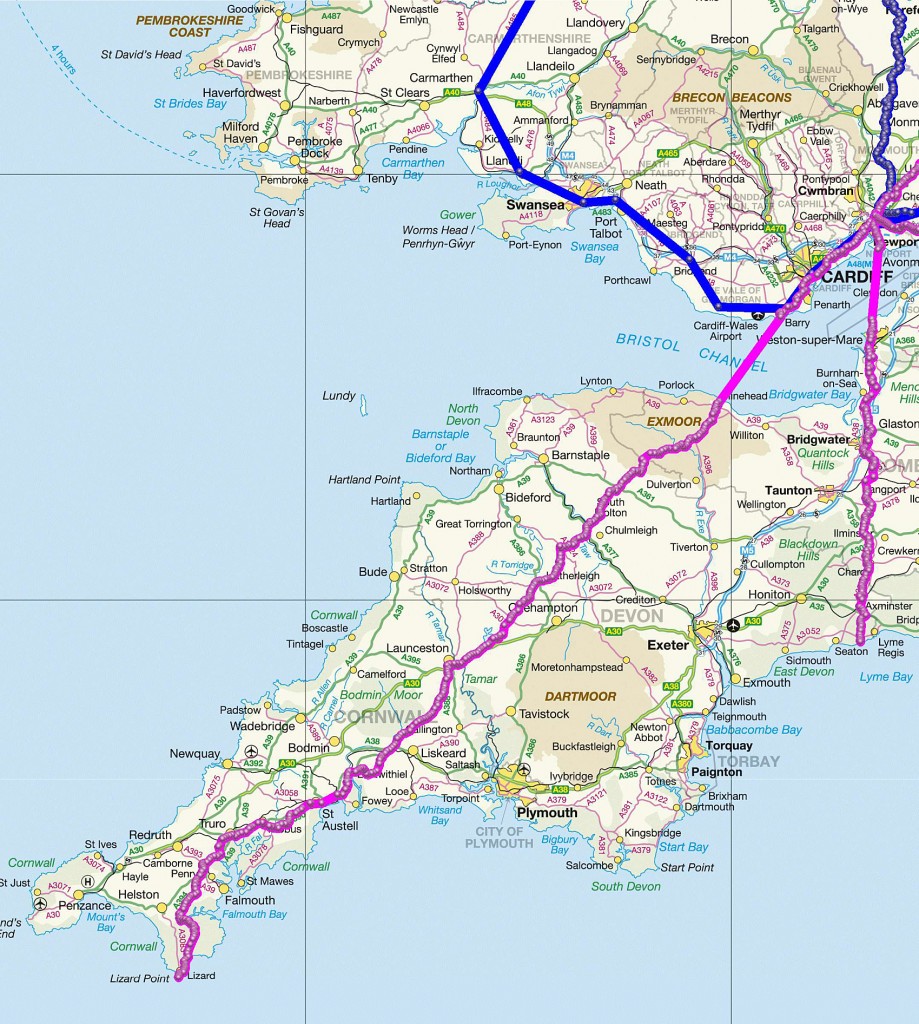 There will be a call to join all other calls for this part of our land to find its feet again, for England to lower itself to raise up the western edge of these islands above itself which is a true leaders role. It was the very hand of a bishop that I originally saw rise out of Lincoln before I even began these walks that blessed England to lower itself and as the hand touched the land, the mid-land, it pushed the land downwards which naturally caused the South West, Wales, Scotland and Ireland to rise….let it be so…..
WALK REPORT
Having walked to Caerleon from both Chester and Lincoln, and from all three to St Albans, these four 'Chesters' have been representative for me of the footholds of control. They have dug deep into the land to hold fast a vast network of connections in place. When you touch one place, you affect many others in turn. The web that has been spun is linked and organized by all that evokes a vanity that our own 'headship' will suffice and that the True Head of Christ is redundant or at worse a competitor! Heady stuff …see 'Headship'. My notion in life has always been 'why change the fruit when you can go to the root' and I can only trust that by walking this simple 'route' that we are going to the 'root' to change the fruit.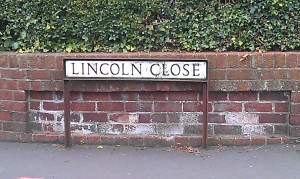 I love the fact that when I am 'off my head' on Jesus He always puts a positive spin on what can be perceived as dyer. So I began with bells and roses and a message of a selfless pure love, addressing places that seemed to oppose that very notion. From the ugly 'Chester' feet of control, I ended up with a 'Treasure Chest' and a 'Kiss' marked out with our feet. However, these walks have certainly, increasingly taken their toll to the point where even the most pleasant of paths seemed to grow invisible thorns. An analogy of the Prince hacking through the forest of thorns to reach the sleeping beauty with the kiss of life has become more and more apparent. The Truth of the Cross is the Kiss 'X' of life to awaken and break the spell of dormancy.
Walking through the bell, inside it, completing the treasure chest and hanging it all off of Whitby with the notion that the antidote is to simply walk loved, 'off our heads' on Jesus and imbibe our 'oneness' with the Godhead 'True-head', has been the only way through.
To walk into the South West was a 'new' direction, now walking away from these 'Chesters' and towards one of the western edges that has been so crushed. Much like Wales,Scotland and Ireland, Cornwall carries the same bullied and maligned identity. In 2008 I walked west from Welshpool to Aberwystwyth to call forth an unlocking. That walk 'died' in my arms several times, each time I passed it back to Jesus until last minute it took an sharp intake of breath and decided to live. This walk was exactly the same, it looked impossible and I was prepared to lay it down but the encouraging sign is that in the eleventh hour it suddenly spluttered into life.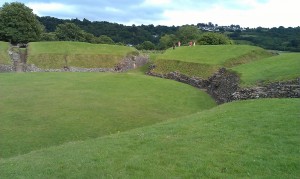 Our team was the minimum size it could be but the fact that it was a last minute possibility assured me that this was on time and to go ahead. It was good to tarry a while beforehand at Caerleon's amphitheatre to connect with Jesus and His treasure stored up there. It has a Welsh royal authority and the South West was known as West Wales to Anglo Saxon England, the relationship between Wales and the SW was strong and so it made sense to me that we were walking from one to the other. So three of us set out from Caerleon continuing the path from Lincoln, through Newport and Cardiff to Barry Island to halt at the sea!
In 2007 walking through Newport on our way from Leeds to Cardiff we charged ourselves with 'New Port' raising unseen glasses to our lips with much laughter. Back then at 'Cardiff Gate' there was a crazy moment when 10 years of carrying 'Intimacy' came full term. In the form of a warm sphere like a setting sun, she appeared in front of me from inside my belly, rose to my face and hugged it before going off into the world to 'touch the frozen heart of man' as she put it. This 'intimacy' daughter is a gift and has had to learn and grow rapidly. As a young woman I kept seeing her prior to this walk, standing on a hill top behind us as we went on our way, fanning huge golden wings and facing the South West. There was a constant flow of warm golden liquid oil flowing forward from her wings right into the South West that kept hitting our backs as we walked. So before the walk I called to her for this moment, that there was a work to be done on her part which was very much what she had been born for.
Now as I walked by Tredegar Park in Cardiff, I recalled that day 5 years ago on that former walk where the experience of 'Intimacy' coming to full term had began. We had sat having lunch in that park, overcome with tears of laughter until it hurt. It was like being on gas and air until we reached Cardiff Gate where she was born on the side of the road! And now look at her, standing tall and coming into all that she was born for, I am so proud of her. Despite having her own 'heating system' it has not been easy in this cold climate of the heart, it has got to her at times and it was then that I would place her in my arms and carry her for a while until she was ready to go on again.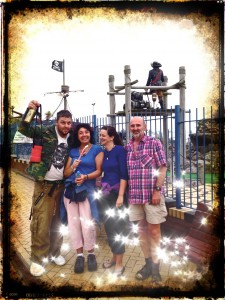 Our feet touched mainly the poor areas of Cardiff which displayed openly its filth and low esteem. Between there and Barry the ground seemed to slide beneath our feet as if grace transported us onwards. Anja and Vinny Francis met us by the pirate ship, two of the most radical people I know, while memories of the mad 'Barry Island Sloshfest January 2009' met me on my arrival here. We could go no further. There is no boat that goes to the other side bar an irregular day tripping steamboat, so a 3 hour drive to Minehead ensued but not before Barry chips and the best chai tea ever.
Family of dear friends of mine put us up, the father was a Minehead man born, bred and had returned to his stomping ground as a Baptist minister. I so value the hours of sleep in places where believers are rooted and connected with the land we walk through, like a welcome, a resting point and a rite of passage. From this point to Lostwithiel (about 90 miles) Nicki one of my now many white Zimbabwean friends joined us. Having recognized the consistent connection with 'Zim' on these walks over the last 4 years, it was a completion of that journey that took place on my last walk from Lincoln to Caerleon. So, I was surprised to have yet another 'white Zim' on this walk! This had to be about the future now rather than the past. Indeed, Jesus spoke clearly out on the windy, open moors that day, such ancient and less 'messed with' land always lets Jesus speak loudly. He talked about her future and confirming that it is no longer about looking back and all about transitioning forward. Hurray!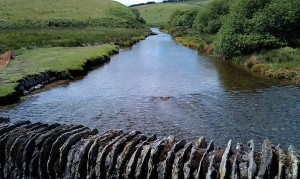 We crossed Exmoor and made our way from village to village through beautiful landscape heading for Launceston on the Cornwall border. Here a family welcomed us into their home having invited us before I had even announced this walk and Louise, the daughter joined the walk through Cornwall. Launceston is known as the 'gateway' to Cornwall and entering via this  Cornish family was God's wonderful provision. Cornwall was one of the British nations with its own language and culture separated at its border by the River Tamar and a distinct identity.
'England is …divided into 3 great Provinces, or Countries …every of them speaking a several and different language, as English, Welsh and Cornish.' Hopton 17th century.
Many years ago God spoke to me about the SW and the propaganda to malign it as backward and a bit of a joke. I could see then that this was a deliberate strategy so that the rich indigenous treasure that is there would be locked up and rejected as embarrassing. When control moves in to divide and conquer it is always to bury the amazing truth of who we really are by creating sides and setting us against each other. For the underdog clutching at the little identity they can save, they become locked up into gripping so tightly to who they are while it escapes through their hands like sand. The empire of Jesus rules that we lose to gain, that last comes first and we let go to be given back to, this opposes the rule of control. It does not work to fight control with control. So for me being in Launceston was about placing a large marker with the message that we can let go because 'it is perfectly obvious to Jesus that this land must be re-awakened and that there is not one moment when He would have left this land and not returned.'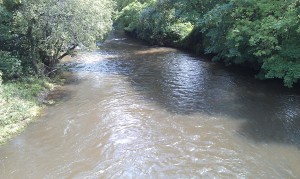 Approaching the Tamar River to cross over into Cornwall my route had 3 cross roads and each point was named, Headson Cross, Gaddacombe Cross and Rexon Cross, 3 'X's, 3 kisses. In the middle of each one I could stand and call for the kiss of life on my way into Cornwall, the finished work of the Cross from death into life, for beauty to awaken, the spell of dormancy to be broken and the Truth of Oneness with Jesus, of Intimacy.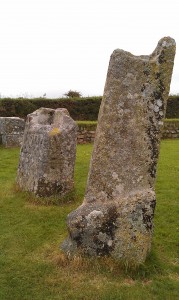 I could see over centuries how this land had begun to believe and suck in the lie that it was abandoned and that Jesus had left long ago. This belief had become a 'lived-in' false reality where they could not see Him any more. The truth is that Jesus did not go anywhere, has always been there the whole time and is everywhere in Cornwall…and that is the Truth, the whole Truth and nothing but the Truth….so help us God. Once the Truth becomes Known, it sets us free, free indeed! This is the awakening, awaking to the Truth, kissed by the Christ of the Cross like Jairus's daughter, they all believed she was dead but Jesus knew she was just 'asleep', He wakes her up and declares she is hungry!
This is for Cornwall/Kernow in 2012….. "Talitha Koum"… Wake up little girl…..and someone…. get her some food!'
As soon as I stepped over the Tamar, I felt like I was in France, it was uncannily vivid and lasted a few 100 yards. It was so good to step into this land that had been ahead of us as a distant line of rugged hills against a moody sky. It must have looked intimidating and wild to any Anglo-Saxon baffled by the different race that lived there.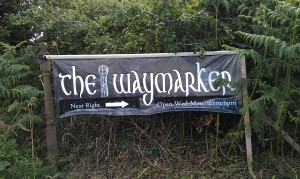 From Launceston we gladly trudged over Bodmin Moor on to Lostwithiel, then St. Austell, then Truro and on to the Lizard. The further west one went into where Cornish identity had been squashed into a corner, the lifeless dormant nature of the land increased; here the lie that Jesus had left and walked out long ago was prevalent. When dormancy ends it is always due to intimacy and the realisation that Jesus was there all along.  When that truth dawns it is always a mixture of relief, delight and indignance because so much time has elapsed and appears lost. The only assurance I have is mine and other's testimony, in particular Joseph of Israel, where as we acquiesce to the One who knows better than us, life comes in the tomb/dungeon, the locked up place and unlocks the years the locusts have eaten so that they are restored beyond our wildest dreams.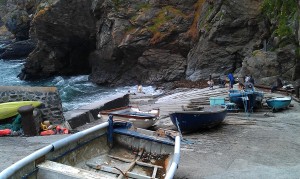 On Lizard Point and looking out to sea our intercessory fervor peaked with the most lavish homemade cream tea ever. We had discovered the old life boat slipway and ran down to touch the sea and mark journeys end in the most fitting of pirate smuggling treasure trove coves. I hope the path we took opened up the way for England's control to drain out and for the end of the land to become its beginning (thanks TW).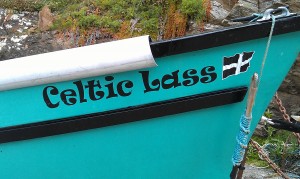 This 'horn' of land jutting out into the sea has a message, from the mouth piece where the land ends, to its boundary of the River Tamar where the sound will come out and into the nation….. 'We were buried but not forgotten, We were lost but always found, We were left but never abandoned, We were recalling yet fully remembered'. Cornwall has a gift of Intimacy. Knowing it is loved and has always been loved will be the living key that unlocks its sound, a low, deep sounding horn reverberating through the land, calling deep to deep.
My HUGE thanks to Rebekah, Graham, Nicki and Louise for walking with me, you were God's ingredients to accomplish His way forward and you all did amazingly in what was a military operation at times! You made this walk 'sweet' in so many ways. I reiterate my thanks to those who specifically prayed each day and kept in touch and encouraged us onwards, lord it is so good to be thought of and cared for.
To the Hallets in Llandaff, Cardiff, a safe house and such support, thankyou. To Tim and Karen Langdon in Minehead for letting us land as complete stangers, thank you. To the Werrans in Launceston, you blew us away in every way, thank you. To Becky Rust in Truro, it was lovely to see you.
Next walks : Caerleon to Humble Point 3rd-5th Aug 2012
Caerleon to Selsey 26th – 30th Sept 2012
So much glory on the feet, almost there,
Katherine