Friday 3rd – Monday 6th of April 2009
10 yrs ago, it was declared a 'Wild Fire' coming out of Wales (Martin Scott)
 which then precipitated prayer teams linking up with locations
all over Wales for the next few years. 
Laterly, during the first half of 2008, teams walked the coast of Wales
calling for what is now rising in the nation
and it's inheritance. 
Finally, at the close of 2008 we crossed from Welshpool to Aberystwyth
through the middle of Wales to call for unlocking,
to give Jesus the centre and cause a confluence 
of the deep wells and the present outpouring in the nation.
As we walked on from Caernarfon toward Liverpool last May, along the coast the sight of Ynys Môn seemed to be with us for miles until we finally turned eastwards towards Colwyn Bay. Staring across the Menai Strait I wondered when we would set foot there.
While we were kindly hosted in a house over looking the strait near Caernarfon, in a dream a figure from Ynys Môn came to me with something to give me. As I received it, I fell back into bronze coloured flame and lay in such tangible glory of Jesus for hours.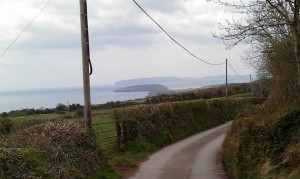 As a group of Islands perched on the western top corner of a massive mainland I believe that places like Iona and Lindesfarne sought to teach us what it is to be an Island on fire for Jesus serving the mainland in a mission sending blaze. There is a special place in Gods heart for islands where they hold marginal positions, exposed to the elements as vulnerable places where it can be easier to hear, touch and feel the Maker in the wild extremes. I feel a sad loss when I see this identity bottled and preserved, perched on a shelf as a commodity of a time gone by. I believe that there are places that have a DNA that has been reserved until now where something fresh and brand new can come up from the ground. Something of God that has not been seen before and to some will be unrecognisable. I see Ynys Môn as one of those places.
At Christmas 2008 as we walked into Aberystwyth, we were joined by Helen and Dyfed Roberts of Ynys Môn which seemed to peacefully indicate the final walk in Wales…. to take a team to walk the coast of Ynys Môn. For me also, there is a deep family connection with Môn, this part of my family lived in Deal for many years where we stayed on the last walk along the Kent coast and so it makes perfect to go to Anglesey next.
Control is like a Lid tightly Sealed
To subdue…..contain and bury…
Taking its time to cultivate a life
On top of that which it pronounces dead!
It slowly spreads Ugly Rumours 
about what is beneath
Until the fear of removing the lid is 
Proportionate to the fear incurred
In the heart of the controller
Who ensured the enclosure in the first place…..
X marks the spot of buried treasure, and so a team of 19 gathered on Ynys Môn (Anglesey) to have a dig for what is hidden and highly valuable. We went to walk, praying around the entire coast believing that it is time for the lid to come off.
We slipped and slid our way around the island as is the only way when sheeny, shiny control is holding everything in place including religion and occult. You never would have guessed how hard it was to follow a simple coastal path! Holy Island containing Holyhead was a grueling day but when Jesus' response was 'well done', I knew the time and energy had been proportionate to the resistance.
The Joy of Jesus is the only antidote to death, it really is beauty for ashes and the oil of Joy for mourning….Cartwheeling across burial chambers, sprawled across bridges wrecked the glory, literally spraying champagne in places of poverty and carrying onboard intoxication as we continually 'set our controls for the heart of The Son'.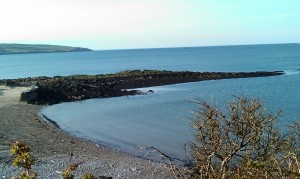 This was the acid test, the acrid antithesis that loosens up the sealant keeping the ol' lid in place. Looking to remove it as we walked, we kicked each foot forward and called to what is beneath.
Ynys Môn was the last place that the Celtic Britons held out against the Roman's conquest, where war and slavery were the instrument of progress. The Roman policy of robbery, slaughter and plunder underlay the name of Empire. Mona was to be taken at all costs. Take Ynys Môn and the premier tribe, the Cymry would be quelled.
Suetonius Paulinus, fresh from Armenian victories in the East, marched from St Alban's to Môn where a slaughter of Britons, Men, Women and children took place on the shores of the Menai Strait.
This is where we proceeded to walk embracing Jesus now and reaching back… pre-Rome… pre-control to that which is indigenous to these islands…an existence that was incredibly favourable to laying down an ancient faith to the fuller, more perfect revelation of Jesus.
We reminded Môn to not be ashamed of itself.
We prophesied, 'You are beautiful and you are not ugly or shamed' Hardd, Hyfryd Môn.
There was a tree in the garden of the windmill where we stayed and the incredible twists in its growth reveal a beautiful pattern… scars of oppression and repression can be moulded so that the beauty is visible underneath and is the base for a new richer pattern (Thanks Debs). The hand of The Creator always weaves a deeper magic.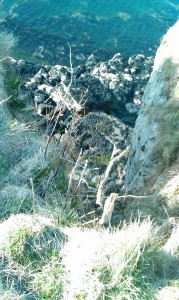 We came full circle to complete the walk of the island and called for the Roman 'Lid', and all that has ridden the back of it, to be taken off this island. These are the days when Môn comes into its own, free from imperial shut down and loosed into its purpose and inheritance.
Deposits are on the move, historical sites where touches of heaven have been resident are being swallowed into their root and running along the underland to shoot up in places that have been reserved until now. Môn, You are one of these places reserved for now. The Three in One is wanting to breakout of You in a way that has not been seen before.  It is like a jail break, an end to confinement where The One who gave all, erupts through in places in a way that the harvest will recognise.
I took to heart a word about concluding cycles and breaking into the new.
On the final day of the walk, there was an exchange between Dyfed Roberts (a native of Môn) and myself as a sign of completion in the land. My family 'Irby, Lords Boston' were landowners on Môn for 200 years and represented much of that which has been part of the controlling layer over Môn. So to gladly repent, relinquish and hand back that which has been held was awesome. Such grace and restoration was given by Dyfed, it was like touching a deeper magic where something really hidden feels huge!
A phone call was received that day that is the first sign for the Roberts that they will be able to move from their home of '3 Irby Place'…they have held their ground and now it is complete…time to move on Ynys Môn!
For me, to end at Moel y don quietly with Jen Hallet, near where the massacres by Rome took place echoed being in Turkey and hearing the song of the Armenian martyrs… 'We are remembered, we are not forgotten, we are found and we are not lost..' The blood cries out and is to be remembered and what they died for is to be found and redeemed. It was shocking news that day as we heard of the earthquake near Rome. Here we were stood on a tiny island at probably the north western most point of the Roman Empire's Control calling for freedom from that very root. Kneeling in the rain cushioned by seaweed it was to these ancient Welsh martyrs, on this shore that we remembered and as we did a wind forcibly rushed through us almost pushing us over.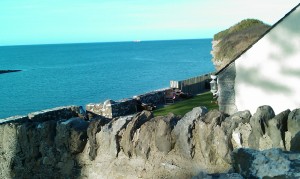 Hugest thanks to Dyfed and Helen Roberts and their friends at Emmanuel Church for hosting us and providing wonderful food.
We honour you Dyfed and Helen, the lid off you and Môn.
To all those who prayed and covered us, we send our love, we were so sheltered by your prayer.
The team;
Jen 'Jireh' Hallet, you are amazing, Lucy 'Martyr' Frazer my friend, Debs 'off tha map' Robinson hyfryd pattern, Phil and Mags 'ligature' Tyler lotta glory on tha snailway, the Family Luff 'Sonshiners' tender and hardcore, Jean and Nigel Stock lovers of Wales, Janey&Roofie 'tha jack' Schroeder sprintin 4 cheezuz, Davey 'don work too ard' Vaughan crimpin out 14 mile and Druncan 'Brown' Browning authentic indigi rocker.
….Sponsored by Tracker Bar, Lion Bar and Shnickers.
Some of the team, some of the time faced life and death situations from bogs, gorse and barbed wire…its getting tough out there.
Lotta lorra glorree on tha feet,
Katherine 'walkin in circles' Garda