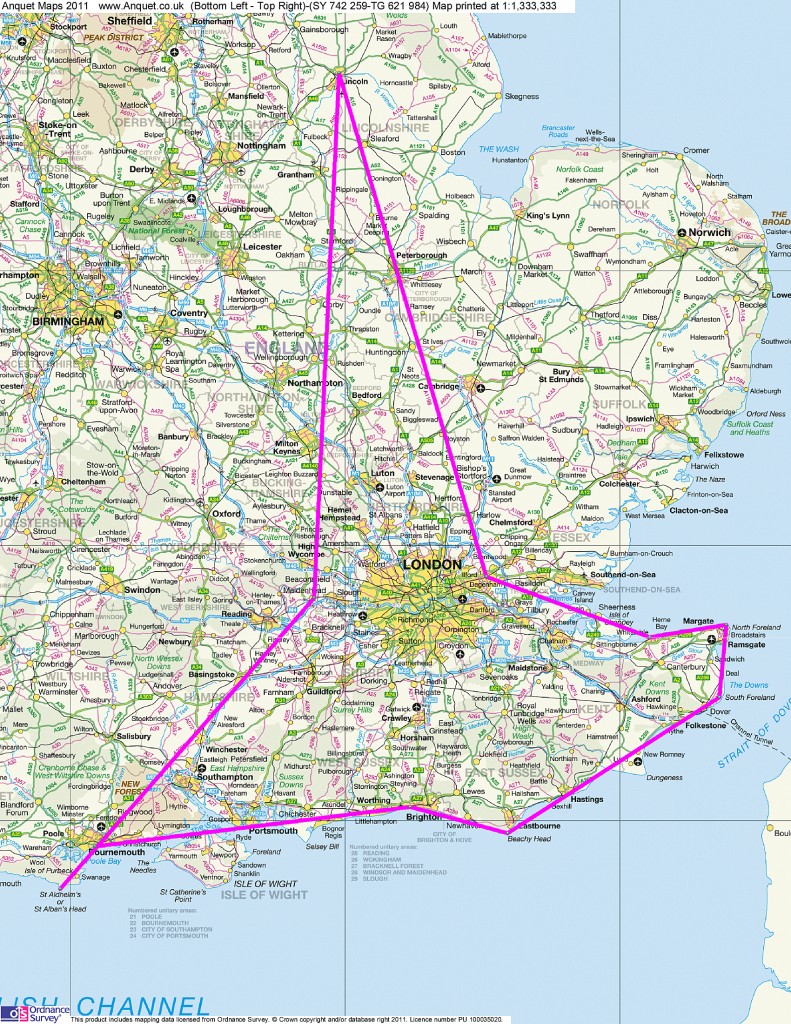 On April 27th, 2008, a group gathered to celebrate Easter on what would have been the date on the Celtic Christian calendar. We gathered on the Selsey peninsular where I live. Here St.Wilfred established his governance on the south coast having already been the persuading orator at the Synod of Whitby to adopt the Roman way in 664.
Of the group that gathered from 20 different locations across England, a shape' was formed, mapped out by each person's home, that marked out an area of England (as shown on this map). We decided to form this 'shape' as we stood on the bleached stones of a desolate beach and called for Jesus' will to be done; Heaven2Earth.
 This outline 'shape' turned into a 'walk' that became nicknamed 'The Bell Walk' comprising 6 'legs' to actually walk this 'Bell' on the land and it took place Sept'08 to Oct'09. Walking with the fluidity of mobile church out on the road, we call for God's heart from one part of the nation to another. It is an opportunity to bring all you live for in your own living room and your journey as part of a movement from place to place, connecting the land with steps of faith and our steps of faith with the land. I have been involved in 'prayer' walking in this nation and abroad, particularly in Wales and the Near/Middle East.
The rhythm of this mobile praying is accessible to all abilities of long or short distances, you do not have to be a walker or prayer 'extraordinaire'! Rather, a willing body with a journeying faith and a few utterances will go a long way as feet touch the land with the 'Makers' heart.