This is the 6th and final leg of a walk that started at Bournemouth in Sept'08 along the south coast to Brighton. This February we continued along the coast to Margate and in April we walked towards London to connect with Romford. In June we arrived in Lincoln from Romford and in August we left Lincoln heading for Maidenhead.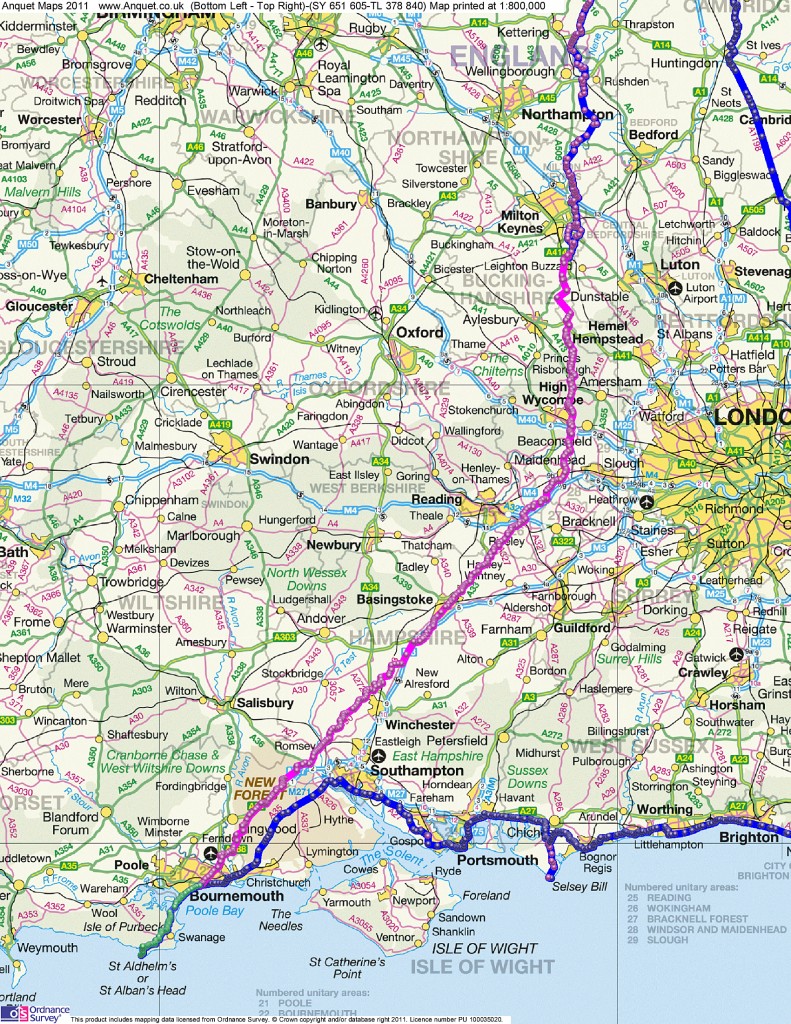 This final leg will go through Maidenhead and return to Bournemouth to complete the outline of a bell-like shape. I have felt to have this shape walked and marked out by the end of the year 2009.
This will be a 5 day walk starting at the three locks just south of Milton Keynes.
There is some business to be done at the 3 locks as we kick off which I hope will unlock the area of Milton Keynes. There is a key connection to stay right in that area the night before the walk with gate keepers who have stood where it has been hard to stand.
For me there are key 'nodes' on this outline, Maidenhead and Bournemouth are 2 of these so to connect with both on this walk is a substantial part of the whole walk. This feels like a big push to complete and finish well so that all is in place for the coming year. I do not know how this proceeds into next year but I have hopes!
I hope for deeper revelation to unlock the footholds of control within this area, the areas it has affected and those it is connected to.
I am hoping for the bell to start to sound in Brighton and across the south coast.
I am hoping for Lincoln to start to express a selflessness and for St Albans to unearth a deeper magic of pure love that lays down it's life.
I am hoping for a righteous influence to bring governance and discipline to London from Lincoln. An influence without position.
I hope for massive healing to course through the West Midlands where the welts of division are like open wounds from the south east up into that area.
I hope for England to reposition, to lower itself into servant leadership and to raise Wales, the South West, Scotland and Ireland above itself.
I hope for new words to be written on fresh english pages from the inkwells of Damascus to the pounding of the hills above San Francisco of the Jesus movement…..Ah! Many hopes but just following heavens impressions on my heart without huge amounts of understanding.
Some places are tiny and of no significance, yet we trip over them as if they are major concerns. Suddenly we are dealing with unseen boundaries and connections that hold control in the land but on the ground are barely existent. Walking caught up with Jesus brings such revelation in the ease and lightness of just being with Him.
A special request of the Most High for the 5 days of walking was 'serene' weather which was delivered first class 🙂 With a great mix of Wales, Leeds, South Coast, St Albans and Chester pulling for this completion, we kicked off at the 3 Locks south of Milton Keynes. We sat in the 'Amies' family home sharing why we were there as we watched the flames of the open fire lick around an cast iron Bell protruding from the back of the grate.
We talked of 3 triangular areas possibly connected to 3 locks on the local canal. We find out that the smallest of these triangles is where four murders have taken place in the last year. The next triangle has the roman Watling street running through it on which sat one of the main Assizes (old criminal court). The largest triangle takes in Milton Keynes and is bordered by Watling Street, the roman road to Chester from St Albans and the Northants border. I suspected a direct connection to the tiny village of Deane where we hit such poo (technical spiritual term) on the last walk. Clare Amies then proceeded to tell me that they as family have a direct connection with the Lady at Deane Park through marriage.
I have noticed that in areas that are locked up with death that God always has a faithful gate keeper, a key. Someone who is willing to lay down their own hopes and dreams in order to stay in an area which can feel like voluntarily laying down in a coffin! It is like He places a living key in the barrel of a lock and when the time comes, the living key turns and unlocks what the deceiver thought was deadlocked. There is always a deeper magic and Clare, just like Jesus, you are that living key….thank you 🙂
So the 'living key' turns at 3 locks unlocking 3 triangles geographically from smallest to largest. It was like God was saying… whatever you do in the smallest area I will replicate in the larger areas so go and do whatever you like and have some fun! So we did… to ultimately shift a shadow that covered most of Northants and north Bucks.
Afterwards we were free to plow on to Maidenhead although my connection there was in Mozambique! Annie Bullen and her husband Julian have been there for a year living amongst and helping the Koti people. They are remarkable and welcomed us from afar as we walked into their hometown alongside the Stocks of Marlow who looked after us incredibly. Three adjacent roads in Maidenhead centre caught my eye, Key Place, King Street and Bell Road so we headed there. A young man, Davey Jones welcomed us just as we arrived at the connection of these 3 roads where there was a pub with a massive sign saying 'The Bell'. We had to tarry for a drink at such a great sign.
Winged feet sped us south west now on the run to Bournemouth. Since Lincoln the path seems to deliberately avoid large towns; All that is between Reading and Wokingham is a motorway intersection which was right in our path but there was no way to cross this blot on the landscape. Such monstrosities on the land become obvious on foot, so Janey from Chester and I made our way where there was no way, for the sake of change at this key cross roads which includes the M4 to S Wales.
The further south we trekked, the harder the ground generally felt with the odd bounce on a bridle way or secluded lane which became less all the while. From this point on we were a team of 3, 3 buddies and 3 women.
Basingstoke in Hampshire, is shaped like an arrowhead directed straight at Bournemouth and was a place our feet were to touch right through it's line of symmetry. I had bought a cast iron bell on line and noting it was from Basingstoke, arranged to pick it up on route. As I stood in the vendors home, above the doorway were the words 'Chester House'…back in 1997 God laid on my heart about 'the Chesters' being the footholds of control that would hold out the longest and be the last places to relinquish control. I have felt that this shape I am walking is directly connected to this. As the occupier of Chester House informed me that he had wrapped up the bell so that the clacker would not sound, I giggled….this is all so madly wonderful, I am so free to not have a clue and enjoy the humour!
Winchester's territory is almost on Basingstoke's doorstep, this Chester sprawls like a spider web across the countryside and again in the most unlikely of tiny places we hit it's restriction and keep out sign. By a pond and 6 houses, barely a village and we can feel the familiar invisible wall. All public access ways were blocked except the roman way in, which Scottish Val pounded her way down head butting invisible legions as she went. These high level control places always manifest confusion so it was no surprise to then discover the car keys were lost… but Jesus always has his stewards on hand. We are forever indebted to a stranger called Mary coming to our rescue and carting us round the countryside. Also a friend, Keith from Winchester who has frequented our holy spirit drinking times at home happened to drive past me and stopped. This connection apart from being amazing timing prevented me taking a dire route choice.
The last adventure as Bournemouth lay before us was the New Forest, a place conserved by royal command for centuries where animals have the priority with in an ancient tradition of land management. It was like entering a fairytale land of enchantments and charms. Nothing is as it seems, time has gone for a nap and hoodwinking is a habitual pastime. We slipped and slid over it's slippery surface as if on an ice rink. The witchcraft was so strong but there was also something else. Creation felt so much more alive although it was certainly not ready to address or enter into conversation with this place. So we trod lightly and with much prayer cover. None the less I was aware of a connection with the land that in time will have something positive to offer where that connection has been lost.
So, at last we reached our destination some 13 months later from where we started out at the pier in Bournemouth. We unwrapped the bell from Chester House alongside 2 other bells from Linda Yoxon in Lincoln. One from the States, the liberty bell and one from Jerusalem and had a ringadingding fest on the beach. There was so much hilarity amongst the 3 of us we forgot to pray or speak out something profound in conclusion. We were done. It has all been said and all been done and until next time…..adieu.
My absolute thanks to Sue and Val for sticking with me, to Malcy for setting us up in the caravan, to Clare Amies and Sarah Holloway for kicking us off. To Jackie and Janey for walking with us. To Steve Lowton for having a nickable mantle and covering us all the way. I have treasured every text encouragement and personal prayers that have kept us safe. I honour the pursuit of the presence of God and the wild fire that is rising out of Wales.
I do have sight of a shape to be walked inside this 'bell' outline which I will attempt in the new year. Further in and further up,
As always there's such alotta glorreee on tha feet