France  –  19th to 25th June 2013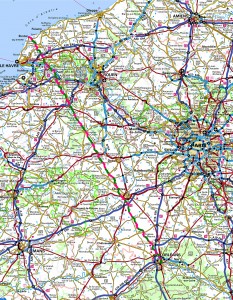 This walk is half of a journey to the centre of France between my home on the English south coast and Châteldon in the Auvergne. The halfway mark is Orléans, a place I visited with a group of believers in 2002 that touched me deeply. Since planning this walk in March when we were not able to go, Orléans has come into view as an important destination and a place that harbours something of the heart of France and who she is.
This year 2013 and walking in France felt so totally different to the walking of the last six years. Only two of us were setting out in confidence that we were God's provision and therefore, we were enough. The very essence of the journey around England has been about 'Being' rather than 'Doing' and 'All Doing to come out of Being'. These walks have pivoted on this, the fact that Jesus has already gone before and regained all creation in Himself. So learning to rest in that fact and 'Be' with Him as we go, enables us to abide with Him on board His purposes and going about it His way. It is wonderful that through no strength of our own we begin to partner with All that the Godhead is already up to. To 'be' part of all that He has already won and to 'be' one with that Truth rolled out upon the earth is the profound treasure. Rather than being so blinded by our own plight of inadequacy that we miss the simplest  wonder and that is our effort is not required but our company is greatly treasured. So we lose 'our way' and accept our greatest gain… that 'The Way' made us to be partners and bring our flow to fill this creation restored through Christ. Incredible.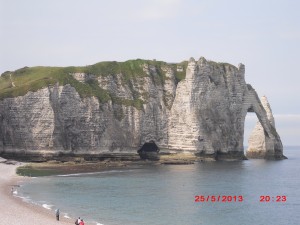 We stepped out from Êtretat on the Normandy coast, Être being the verb 'To BE' and nothing speaks louder than that LOL. Where England leans toward endeavor and often striving, France has an appearance of idleness and yet a flowing.  So I knew there was something deeper to learn about the essence of 'Being'.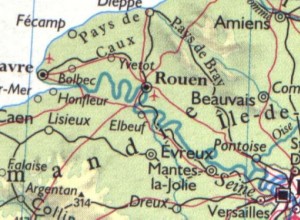 We reached the Seine at the end of the first day, this river that so meanders left and right just like the journey of 2013 that I saw and named an 'Odyssey' back in January.  Before we knew it, we arrived with a bit of a bump the other side of the river as if crossing it caused you to forget to land on your feet! We immediately felt destabilised ….after all, these main 'arteries' into the heart of a land have been established for millennia and our little feet have a certain disestablishment tread, stamping  cracks into 'the way it has always been' without even realising it.
We returned to the Seine crossing to begin the next day only to cross over the bridge two more times unintentionally and two more tolls later arrived back at our bumpy landing the right side of the river! I have had this so many times before, always stressful at the time because it is all going 'terribly wrong' but actually it is necessary in order to cut open a way forward at key points. Actually going back and forth (by mistake lol) in one location is like a sawing or slicing motion to cross through boundaries seen and unseen.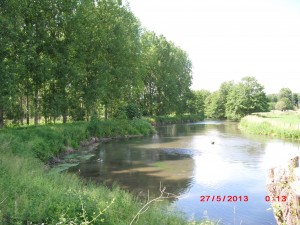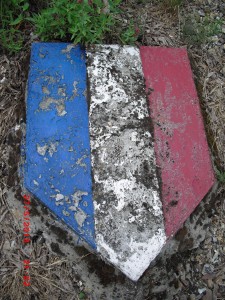 Once we were through, it was hard going for a while but became lighter as we joined the River Risle following its corridor through the Haute-Normandie region with Évreux on our left and Liseux on our right. Particularly in the valleys it was lovely to see healthy cows full of milk without awful bones jutting out due to genetic manipulations for more product and financial gain. There were many small cattle farms where the creatures were obviously cared for thanks to the subsidies issued for farming there. As the land gave way to the plateaux of the Eure it stretched out before us for miles with tireless fields of crops. As far as the eye could see the flat land constantly swayed with flax, wheat and all manner of rich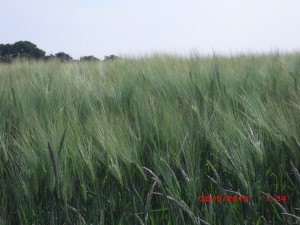 cultivation. The vast fields heavy with growth for harvesting were an astounding 'bread basket' to behold but with the tell-tale signs of state of the art automated machinery it was obvious that alongside the odd small-holding were some massive conglomerates orchestrating most of the land with no connection to it other than spreadsheets and profit margins.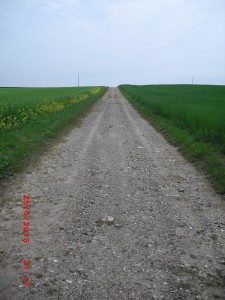 The roads were barely used and we did not see a soul for miles even in the hamlets and villages on the way, shutters were closed and it was like walking through a library or after the rapture LOL. The further we went the more eerie it became, I love peace and solitude but I wanted to yell and disturb what felt like a 'lack of life'. I had been touched by the story of Jairus' daughter for France particularly when Jesus says that she is not dead, only asleep and wakes her up…. this is so beautiful and I knew this was for this nation.  On day 3, as we reached Dreux on our left it began to feel like she was not just sleep but in a confounded coma! I had only been walking an hour and felt like lying down at the side of the road as I could barely go forward, it was absurd and bizarre! Dear Sarah was ahead and completely on route but was convinced that she was lost! Again these hurdles ring bells from previous walks where they indicate an unseen boundary that we are crossing.
Chartres was up ahead and 30 miles off yet I have come to know that some places have an affect way beyond their location and you often hit their influence miles before you actually get there. Chartres is twinned with Chichester and has dark roots of 'control' that operate within that city. So to experience confusion and physical draining is nothing new but as long as we put one foot in front of the other it is the darkness that is confounded.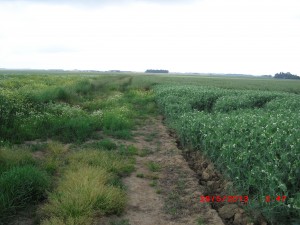 Thankfully we were not walking through that city as it was not a place I had come for and felt free to bypass it. These places demand and thrive on attention so to 'walk them' is to ignore them unless they really are a place that begins the 'domino' effect for change and not just pretending to be such a place!  It was no surprise that as we skimmed Chartres, SAT NAVs stopped working, maps were misleading and actual roads disappeared into fields of wheat or 'no go' areas. One helpful element was the hideous twin spires of the massive cathedral to our left that kept us on course even when the route was not obvious.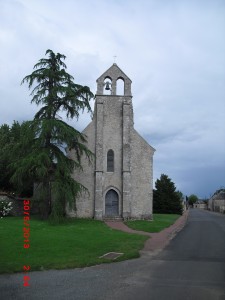 So moving on along the lengthy, little used small roads surrounded by fields between the villages, seeing and hearing hardly a soul but more than often than not, a bell would ring out from a church while passing through which was an encouraging reminder of the Bells that have always featured on these walks.
Each day we drove 4 to 7 miles together as all our walking was on our own. We marked each mile by stopping, getting out of the car and jumping around the road to Godfrey Birtell's 'Wild Bells' and 'Frère Jacques' which seemed fitting with Jesus taking France's hand and telling her to wake up….. dormez vous…..sonnez les matins….ding dang dong!  By day 5 our windows were wound right down on our pray/drive to counter the uncanny constant silence, even in the town centre of Orgères en Beauce it was the church bells that suddenly decided to join in with our mobile racket. Having made it so far we marked the point where we would walk into Orléans in the most nowhere of places featuring a junction and a couple of buildings called Villepion. Everything has a name in France, even the fields! However Villepion was deceiving because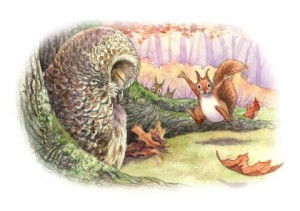 what appeared as an old unkempt farm with an usually high wall turned out to have the most intimidating chateau behind it. The wall and shut gates were very tatty but back from the road you could just see over them to the immaculate building inside. There was something about this place that made you take a quick breath. It felt 'strong', almost mesmerizing & not nice….. as if we should not be there, as if we were on the doorstep of something ominous. If you know Beatrix Potter's Squirrel Nutkin then it was as if we were on 'Old Browns' doorstep and like Nutkin we had not come to pay homage, instead we turned up the music and bounced around the empty road even more. Maybe 'Old Brown' did open one eye to spy our episode as we audaciously pretended to ring bells wildly, this place may be a 'watcher' but we could not tip toe past. Later online, it was very hidden and hard to find anything about this place but I finally found that the président du conseil général d'Eure-et-Loir lives here.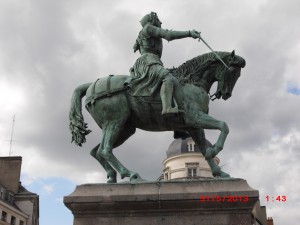 On the 6th day of walking our destination was the centre of Orléans, there was a feeling that we were being stalked by an 'atmosphere' from Villepion onwards, but Orléans itself seemed to allow us in with ease and before we knew it we were standing on the old bridge over the Loire just where I had stood before in 2002. Before now I have had an idea of what to do or say when we reach these destinations but this arrival felt completely different. Having carried various themes walking here I did not feel free to utter or demonstrate them. I felt completely silent and could not bring myself to strive against this quietness or give voice to anything in my heart.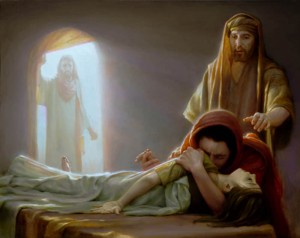 We had come all this way with the belief that Joan of Arc represented something of the heart of France and indeed the heart of Jesus in her feminine vulnerability, her intuition and leading dressed as a man. This young illiterate farm girl, a mere slip of a thing who saved her kingdom from the English was pressured to achieve more than was her conviction. Although the French throne was saved by her, in return she was not saved, she was forsaken to the hands of the English and burnt at the stake.
As with Jairus' daughter,  Jesus comes and says she is not dead just asleep, he takes her by the hand and said to her,"Talitha koum!" (Little girl, I say to you, get up)…..and instructs the family to give her something to eat.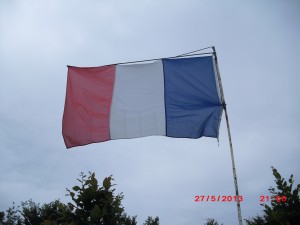 Each year, crossing back from Engand to France I have increasingly seen that England has such a fullness compared with France, like travelling from one that is emaciated and to the other which is laden and bountiful. As a mother of plenty would feed to increase weight as much as she can it was as if we had come to France with massive pipes tucked under our arms to plug into the land so that the full fat milk of England can chug through like a huge feeding operation. As Jesus said 'get her something to eat'! Feed her up, it is time for France to awake and develop some love-handles!!
So the English Milk-Maid comes to the Maid of Orléans (click here for the Milk Maid that is England)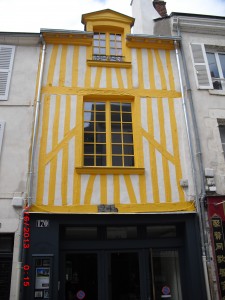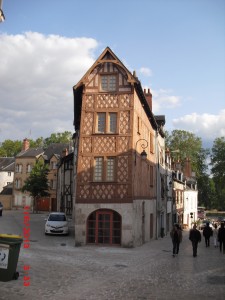 We had the chance to spend the following day in Orléans which was 25th June, a date I have regularly marked over the years.  We returned to the city centre to see if we would be more enlightened how to express all we had carried. Also, there had been some nasty interfering dreams in the night which added to our fragility however once we were back on the bridge, again silence was golden. There was such peace in being still and such discomfort with trying to express or declare anything more. Our feet said it all, the journey declared it all and our hearts had carried it all. This made sense to our heart but our head had to slowly come to terms with this silence. It felt so unfinished but we could not remedy that with any endeavor or strife.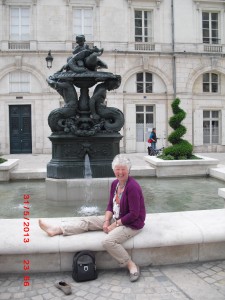 We began to wander around Orléans, drawn to its quirky shops and street cafes having increasing fun while the bad nightmares receded and the pressure to 'do' something gradually disappeared. It was the most relaxing day we had both had in ages and although the walking had been tough the reward of this ending made it all worth it. As we sat in the street in the evening sun hosted by a lovely Turk with some tasty authentic kebab we realised the sense of being unfinished was gone. It was completed by just 'Being' throughout the day. Être….to Be….in the Great I AM…so I am…and we are…complete.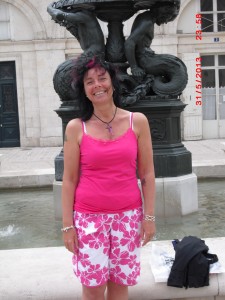 My complete thanks to Sarah Holloway and her husband Tim for her company on this walk.  Huge thanks to those of you who prayed for us as we went and encouraged us. As for more walking in France I am making no assumptions, I see and feel much for the place but whether it is my place to continue remains to be seen.